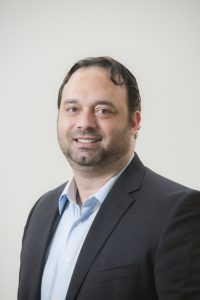 As a member of the Civic Renewal Team, Jeff Coates is responsible for organizational priorities that include conducting research, performing data analysis as part of the Civic Health Index initiative, and evaluation of programs. As Director of Research and Evaluation, Jeff brings to the Civic Renewal team over ten years of social science research and on-the-ground program evaluation experience. His prior experience in disaster relief and long-term recovery has given him the knowledge of various fields including community development, civic engagement, and economic development.
He previously worked at the Knight Foundation as Strategic Initiative Associate from 2010 to 2013, where he managed grants totaling over $20 million including supporting Knight's Soul of the Community project. Jeff performed data analysis and evaluation on grants in the National and Strategic Initiatives Department and participated in multiple panels on placemaking, community development and program evaluation.
Prior to joining Knight, he worked at the Greater New Orleans Disaster Recovery Partnership, where he collaborated with more than 50 nonprofits to develop strategic plans for long-term recovery. In this position, he analyzed data on households served by the Long Term Recovery Organizations and by using spatial data; he created various GIS maps of the households served. Before that, he was a supervisor with the American Red Cross' Hurricane Recovery Program in New Orleans.
He also co-founded the Recovery Action Learning Laboratory (RALLY) Foundation, a New Orleans-based nonprofit that monitored and evaluated post-disaster programs. At Rally, Jeff developed assessment tools, formulated data collection methods, and directed the collection of primary data for the assessment and evaluation of programs implemented in the Gulf region by large-scale international organizations such as Mercy Corps, World Vision, Save the Children and the Department of Justice. He has worked in disaster recovery in Sri Lanka, where he worked with the Government of Sri Lanka in assessing food distribution to internally displaced people following the 2004 Tsunami.
Jeff was also a Peace Corps volunteer stationed in Guyana. Jeff earned a Bachelor of Arts in anthropology from the University of Oklahoma and a Master of Public Health from Tulane University in New Orleans.